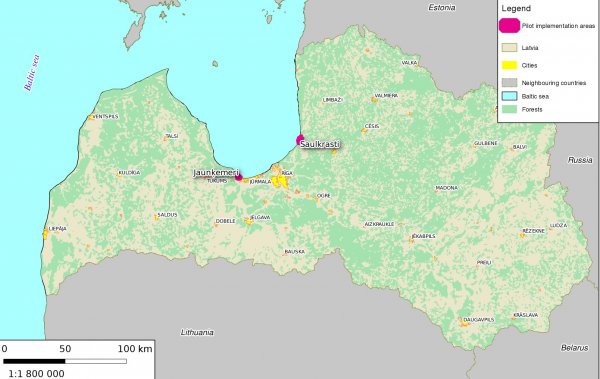 One of the project "LIFE EcosystemServices" main aims is to develop on ecosystem services methodology based recommendations for coastal municipalities and other inistitutions as well as to create a tool which facilitates recommendation incorporation into spatial planning processes.
RECOMMENDATIONS FOR INTEGRATION OF ECOSYSTEM SERVICES APPROACH INTO SPATIAL PLANNING (LV)
In the recommendation development process many key institutions are involved. An expert group is created and consists of representatives from institutions involved in spatial planning activities. Expert group consists of representatives from Nature Conservation Agency of Latvia, association "Baltic Coasts", Saulkrasti municipality, spatial planning company "METRUM", University of Latvia, Latvian Association of the Local Coastal Governments, Riga Planning Region Spatial Planning department, Ministry of Agriculture Rural development department and Ministry of Evironmental Protection and Regional Development Nature protection department and Spatial planning department.
In order to create useful and aplicable recommendations and ecosystem services evaluation tool, expert group meetings are held. During meetings expert opinions, suggestions and critics are taken into account and the reccomendation development process are presented as well as discussions about best solutions are held.
Expert group 3rd meeting

17.01.2019. Riga,

in Ministry of Environmental Protection and Regional Development

Agenda

- discussions on the draft recommendations;

- information on the recommendations of the LIFE VivaGrass project.

Presentation (in Latvian language)

Expert group 2nd meeting
02.03.2017. Riga, associaton "Baltic Coasts" office

Agenda

- project "LIFE EcosystemServices" aims and results;

- tendencies and challenges in spatial planning in Latvia;

- ecosystem services approach role and place in spatial planning processes of Latvia;

- spatial and tipology creation process, based on the Spatial planning system of Latvia and ecosystem services evaluation in project pilot areas;

- discussions about preliminary content of recommendations.

Presentation (in Latvian language)

Expert group 1st meeting
24.11.2016. Riga, associaton "Baltic Coasts" office

Agenda

- project "LIFE EcosystemServices" aims and results;

- world's existing ecosystem services evaluation tool content review;

- discussion about ecosystem services approach integration into coastal spatial planning.

Presentations (in Latvian language)

- project "LIFE EcosystemServices" aims, tasks and results;

- Ecosystem services evaluation/spatial planning tools